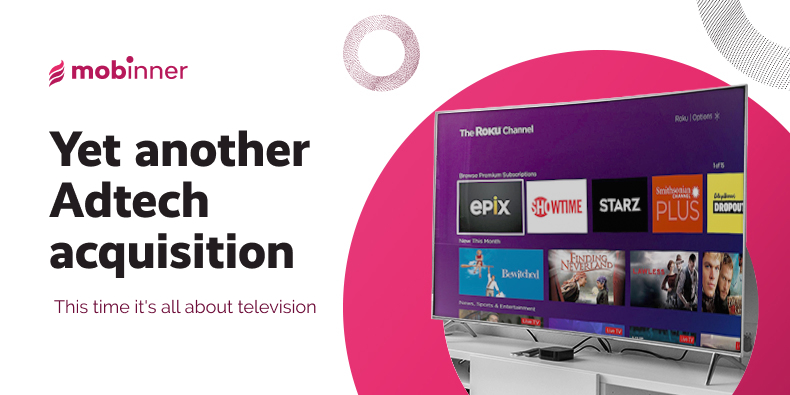 This time it's all about television
Just a couple of months after the announcement of the merger of Taboola and Outbrain, two of the largest native advertising platforms on the market, connected television company Roku has announced it is taking part in what's shaping up to be an adtech trend.
At the steep price of 150 million dollars, they'll be purchasing the Demand-Side Platform dataxu. 
This acquisition is just the latest in a stream of major adtech consolidations, mergers, and purchases as the industry attempts to adapt to the new realities of the market. 
Who is Roku
Founded in 2002, Roku has long been a major player in the Connected TV market. Similar to Apple TV and other set-top devices, Roku's products are designed to connect the living room to internet-based services. 
Roku played and continues to play a large part in the Connected TV market. Along with Apple and console manufacturers, such as Microsoft, Sony, and Nintendo, Roku is one of the most common ways that so-called over-the-top media makes its way into the living room.
What is over-the-top media
Over-the-top media is a broad term that encompasses essentially any and all online streaming or media services. Netflix, Amazon Prime Video, Hulu, etc. can all be considered Over-the-top media services. 
Netflix and its competitors have become a major part of the video entertainment industry. Indeed, Netflix has become so common that one can assume an American family has at least one Netflix subscription. So getting these services into the living room and onto the family big screen is extremely important and, in many cases, quite lucrative. 
While families have been increasingly quick to "cut the cable," as it were, they have not been so quick to all pile into the family office to watch a movie on the desktop. 
Desktop video consumption is high, and mobile is growing exceptionally quickly, but relaxing on the couch in front of a 50-inch television is simply an experience that very few are really ready to give up. 
A new means of getting video-on-demand is very welcome, but the "TV room" is here to stay for most families.
It's too comfortable, and, more importantly, it can be done together – something with which the phone and the laptop really can't compete.
Connected TV provides the proverbial best of both worlds. It liberates the TV from old cable and satellite constraints and brings the wide world of Over-the-top media services into the living room.
Connected TV
Connected TV is a simple idea, but one that wasn't particularly easy to execute.
"What if the TV were connected to the internet? "
It's not a complicated idea, but it took a long time to really reach fruition due to a number of issues.
Early attempts, most with Microsoft Windows Media Center and similar offerings, were simply too complicated. They just took the desktop and tried to modify it slightly to make it work on a television. 
Of course, treating the television as a giant desktop monitor didn't really work.
The screen resolution was significantly lower and, most importantly, the people using a television could be anywhere in a room and were often quite far away from the actual device.
This distance and variability made the keyboard and mouse very unsuitable for user input.
Basically, the desktop-based connected TV failed on arrival. Video game consoles and their designed-for-TV interfaces were some of the first real successes when it came to connected TV. 
Roku and Apple TV followed later with their own devices that featured designed-for-TV interfaces and easy installation.
Click here to read more about this growing market segment
Smart TV
Another on-going development in Connected TV world is the building of the "Connected" part of Connected TV right into the TV itself. Rather than using some kind of set-top box, console, or another device, it comes integrated right into the TV. It's painless and turnkey. 
Manufacturers, having realized that most of their customers use Over-the-top services, have begun building TVs that can interface with these services directly.
These TVs are now known as Smart TVs.
According to Statista, Smart TV penetration was at 57% of American households in 2018. That's up from 46% in 2017.
Roku, along with most TV manufacturers, has gotten involved with the development of Smart TVs, even if their main products are still stand-alone set-top boxes that can work with any modern Television.
Smart TVs are, however, very limited in that manufacturers do not often keep the software updated for the entire lifetime of the television. Since manufacturers produce so many models, they simply can't keep updating the software all the time.
This leads to Smart TV interfaces becoming rather dated quite quickly.
Further, they can be a significant security risk for your home network. 
Despite all of this, Smart TVs are selling very well and Smart TV features are becoming almost the norm when it comes to buying a new television.
And this is only further driving the transition from traditional networks to Over-the-top media services.
Over-the-top and Connected TV
Connected TV and Over-the-top media services form something of a positive feedback loop. 
For every new piece of content available on over-the-top services, there is a new reason to get a set-top device or Smart TV.
At the same time, for every person that gets a Smart TV or set-top box and cuts the cable, there's another reason for media companies to make their content available through Over-the-top services.
Like most systems that are self-reinforcing like this, it was a weakness at the beginning. There was no reason to get a connected set-top box because there was no content.
In turn, there was no reason to add content because no one could watch it.
This was ultimately broken by services like YouTube and, to a much greater extent, Netflix. These services were originally mostly consumed on the desktop, but after gaining sufficient momentum, they kickstarted Connected TV. And thus, the loop began.
A new way to users
Connected TV and Over-the-top services make for one of the more exciting, if slow and predictable, changes in the way that advertisers can reach users. 
Since YouTube launched and exploded in popularity in the late 2000s, it became immediately apparent that streaming video was the future. It was simply a matter of time. 
Over-the-top media provides a new, targeted avenue of advertising.
With over-the-top media, all of the data-based programmatic advertising tools that allow for effective targeting and retargeting of users are made available.
Unlike with traditional media services, over-the-top media services are very measurable. Usage cannot only be measured, but specific suggestions can be made to specific users based on their viewing habits. 
This can be seen in YouTube channel recommendations (or next video recommendations) as well as in movie recommendations on Netflix.
But beyond just suggesting more relevant content, this information also allows for substantially more effective advertising – and that's somthing that companies are willing to pay for. 
As more and more content moves from traditional networks to over-the-top, the ad dollars will follow. This transition has already occured in many industries, though it has been slower for television in general (primarily due to the enormous moat that live sports enjoy).
But the convience for users is substantial, the services are cheaper, and, for advertisers, the demographic targetting is substantially better.
So from all perspectives (excluding that of legacy network operators) the transition to over-the-top is loaded with benefits and very few downsides. 
Tech is king
In the wild and increasingly vast world of Over-the-top media, tech is king.
And this is exactly why Roku bought dataxu. Dataxu was an existing, already built out, effective programmatic advertising system with a focus on over-the-top media services.
Roku evidently decided that it would be simpler to buy an existing, proven system than it would have been to not only build one from scratch but also compete with a company that was already so far ahead.
In many ways, the battle lines are being drawn in the programmatic industry.
Industry trends
Roku's acquisition of dataxu comes hot on the heels of the announcement of the Taboola-Outbrain merger. 
As we have discussed on this blog before, the digital advertising industry is beginning to undergo massive changes.
Read more about the new outlook for digital advertising here
An industry that has become used to double-digit growth, mostly thanks to successive digital revolutions (web 2.0, smartphone, digital video, etc.) and the cannibalization of an already enormous traditional advertising budget, now has to acclimate to less spectacular industry growth. 
Digital advertising today is no longer just a segment of a broader industry, in most developed countries it now makes of the lion's share of ad spend.
As traditional advertising gets squeezed into a smaller and smaller percentage of total annual ad spend, cannibalizing this ad spend is slowing considerably. 
Likewise, the smartphone revolution is approaching its end in the West as smartphone penetration nears 100%. Time spent on phones is leveling out, and saturation is almost total. Smartphones are a commodity nowadays, and expecting double-digit or even high single-digit growth from this segment is simply unrealistic. 
Lastly, digital ad spend growth in developing countries is largely a function of their total economic growth.
All of this means that the industry is preparing for changes.
The industry is large, but the growth to which it is accustomed is coming to an end. This slowing growth means that to survive and grow, adtech and programmatic companies are going to have to bring significant value to the table. When growth is plentiful, there is room for a lot of little fish.
When the pond stops getting bigger, though, everything changes.
And the walled gardens are still standing.
Facebook and Google continue to dominate the digital advertising market, so as growth slows, the industry could feel pretty cramped for everyone stuck in between the walls. 
These are the trends that are driving programmatic ad platforms and other kinds of adtech companies to begin merging and buying one another. 
What's next?
With Roku's purchase of their very own specialized DSP and the Taboola-Outbrain merger, one can only expect the trend to continue as adtech companies prepare to position themselves for the next 10 years.
---
Mobinner is a high-performance Demand-Side Platform. Since 2017, we've been helping clients build brands, acquire users, and drive conversions. See what Mobinner can do for you!
---
---