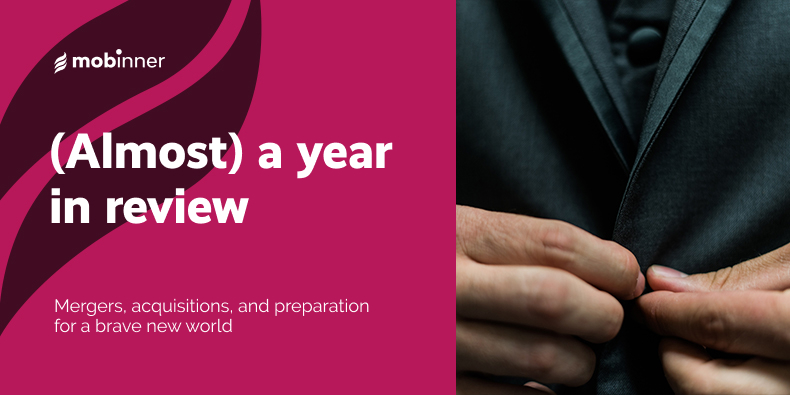 Mergers, Acquisitions, and preparation for a brave new world
---
"Fortes soli supersunt"
If you've been following this blog for the last few weeks, then you've probably found that mergers and acquisitions is a recurring theme for us.
You don't even need to be following this blog; if you've been following industry news at all, then you couldn't have missed this trend. Outbrain, Taboola, dataxu, to name a few of the major mergers and acquisitions of the last few months. 
These are just the big deals, however. These are the deals that make such a splash that you can't help but notice. 
In their shadow, however, lie dozens of smaller deals. Mergers and acquisitions that don't raise as many eyebrows, but, together, illustrate just how large this M&A wave is. 
In a couple of other articles, we have already discussed the Outbrain/Taboola deal and the Roku/Dataxu deal. So we won't go over those again.
Instead, we are going to focus on data that has been collected and analyzed by Results International regarding Mergers and Acquisitions is the advertising technology and marketing technology world from Q1 to Q3 2019. 
You can find Results International's data and analysis here, and I highly recommend spending some time with it.
Adtech mergers and acquisitions up over 80% since 2018
According to the research that Results International has published, mergers and acquisitions in Advertising and Marketing technology are up 86% compared to Q1-Q3 2018. 
There were 86 deals between Q1-Q3 2019 compared to just 47 in the same three quarters in 2018. 
Naturally, not all of these deals moved the needle on Adtech seismograph, but together they form a substantial number of mergers and acquisitions.
Impetus to consolidate
This significant increase in mergers and acquisitions within the space goes a long way to illustrate how the industry is changing – and what managers think their company will need to survive in the new environment. 
As the Results International data illustrate, there has been a considerable impetus toward consolidation. 
This is likely an attempt to adapt to the changing environment, a more negative global economic outlook, and, most importantly, the end of a very long run of very high growth in the industry. 
As digital advertising remains dominated by the so-called "duopoly" of Google and Facebook, the space between the walls is feeling increasingly cramped. Especially since the period of double-digit annual growth is coming to an end. 
When an industry is expanding rapidly, there is a lot of room for a lot of players.
When it is not expanding very quickly, there is security and stability in scale. 
When growth slows, and two unassailable walled gardens hold the lion's share of the market, then only the strong survive.
But there's another aspect here
According to Results International, the top buyers in the Martech and Adtech spaces have been the Japanese advertising firm Dentsu, Insight Venture Partners, followed by Accenture.
So, while mergers such as the Taboola/Outbrain illustrate a certain trend toward size and stability v. rapid growth, these other acquisitions show a couple of other trends that exist contemporaneously.
The wealthy agency buys its place
Let's look at the company with the greatest number of acquisitions in this space. That company is Dentsu. This Japanese Advertising Services company bought 10 different adtech and martech firms in the first three quarters of 2019. 
This ancient firm (it was founded 118 years ago) has managed to live and to prosper for so long by adapting to the times and not letting itself get left behind. 
Today, Dentsu is the largest advertising agency in the entire world and boasts the fifth-biggest advertising network. 
In terms of advertising, it's on top of the world. And it wants to stay there. Being the largest firm in the entire industry, it also has enormous resources at its disposal. 
Dentsu's rash of acquisitions is likely best seen as a successful traditional agency using its vast resources to buy its place in the world of digital advertising.
The money is transitioning to digital advertising and, therefore, so is Dentsu.
Private Equity Purchases
Beyond old advertising companies boosting their digital advertising muscle via their large pocketbooks, another major driver was private equity purchases.
The company with the second-highest amount of purchases in Q1-Q3 2019 was Insight Venture Partners.
Founded in 1995, this New York-city based private equity firm has over 23 billion dollars in assets and a long history of picking winning technology investments.
For example, this private equity firm invested in Twitter, Shopify, Hootsuite, Tumblr, Indiegogo, and many other big-name tech companies.
Now they're jumping headfirst into Adtech.
What does this mean?
Private equity firms tend to jump into a market and start making acquisitions when they think that they'll be able to resell these businesses in the short- or mid-term.
They'll buy a proven or fast-growing business with the intention of holding it as it gains value and selling it for a substantial return in the future.
Naturally, this requires two things: a lot of money and the ability to consistently and effectively determine which companies and industries are likely to grow in the long-term. 
Consistently making that prediction is no small feat. And when a firm with such a good track record starts snapping up adtech companies, it's a good sign. It means that they think that these companies will be worth significantly more in the not so distant future. 
Consulting
The last of the three biggest sources of Q1-Q3 2019 Adtech acquisitions was Accenture, a professional services and consulting firm.
Their interest in adtech is largely a function of digital advertising becoming the largest single aspect of advertising in the developed world. 
In the United States, the United Kingdom, and elsewhere the scales have finally tipped, and digital marketing now accounts for over 50% of total ad spend.
Naturally, this means that the great majority of potential customers for large consulting companies like Accenture are going to be interested in digital advertising.
So in order to better server this no-longer-niche need, they've been snapping up companies with the know-how that they require. 
It's not all about adjusting to slower growth
One of the things that we have really been harping on here on the blog is how the industry is undergoing a massive change right now.
Not just a massive change, but a series of massive changes.
Total industry growth is slowing. The Walled Gardens seems more entrenched than ever. To complicate things further, Amazon has jumped into the pool. There's just a lot of changes going on, and there's still a lot of small fish trying to eke out a living in the shadow of Google and Facebook. 
You can read our in-depth take on why growth is slowing and where it can still be found here and here. 
But suffice it to say that the industry was extraordinarily fortunate and surfed a series of massive revolutions that saw digital rapidly grow from tiny niche to the majority of ad spend in the developed world in less than two decades. 
Growth is shaping up to be a lot less extraordinary in the coming years, and that's going to require a lot of adjustment. 
And, as with all things in digital advertising, this adjustment is only complicated by the Walled Gardens relentless rule of half the industry.
This slowing growth and a need to compete effectively with Google and Facebook are certainly driving factors behind the rash of mergers and acquisitions.
But, as a close look at the Results International data shows, there are also a lot of other things going on here. 
Old advertising firms trying to buy their place in the new world, consulting firms working to add increasingly important services to their repertoire, etc.
The fact that private equity firms are snapping up adtech companies is also a good sign for the industry. This means that experienced observers expect at least some small companies to flourish in the new environment despite it all. 
Most buyers were "in-industry"
While a Private Equity firm and a Consulting firm managed to take second and third place over-all, Results International reports that Private Equity deals have been decreasing. In-industry or "trade" deals, on the other hand, have been accelerating. 
The top three buyers in Q3 were Dentsu, Publicis, and Blue Field. All advertising companies of one sort or another. 
Conclusion
While PE firms, consultancies, and Ad Agencies might all have different reasons to buy into the Adtech world right now, the real reason that they're all here is that the industry is rock solid.
Future industry growth might be decelerating, but it's falling from "astronomical" to "pretty dang good."
The situation only looks somewhat negative because the last few decades have been excellent.
The industry as a whole has matured. The lightning-fast growth of the past is over, and the steady growth of a predictable and developed industry is on the horizon.
Companies with vision, drive, and, above all, good tech will be more than able to flourish in the digital advertising world of the future.
Digital advertising has become a must, after all. 
There is no advertising strategy in 2019 that does not involve digital advertising. In fact, for many companies, digital advertising will be the majority of their budget in the years to come. Many will likely eschew traditional advertising media entirely, hence why old advertising giants are opening their pocketbooks to enter this industry. 
Which is good news for those of us already here.
---
Mobinner is a high-performance Demand-Side Platform and Advertising Network. Since 2017, we've been helping clients build brands, drive conversions, and acquire users. See how Mobinner can help your business reach the next level!
---
---